The Tesla Cybertruck, the Rivian R1T, the Ford F-150 Lightning… it won't have escaped your attention that electric pick-up trucks are hotter than a microwaved cheese sandwich right now. And now you can add another to that roster – the Alpha WOLF – which is clearly the coolest one yet.
Why? Because it's channelling some serious Back to the Future/Marty McFly vibes, and as the universe guidelines dictate, that instantly makes it better. We don't make the rules. So, when we had the chance to photograph the WOLF in California recently we decided to take that idea and run with it on the photo retouch… worked out well, no?
Ha! You thought the DeLorean was the automotive star of BTTF? Perhaps, but we'd put it level pegging with Marty's tricked-out 1985 Hilux for a main-vein hit of pure 80s nostalgia. Spotlights in the front bull-bar? Check. Spotlights on the roof? Check. A sports bar across the bed? Check. A sudden desire to lob your hoverboard in the back? Big check.
If you've never heard of this company let alone the car, that's entirely understandable. Alpha is a Californian EV start up that starting making waves in 2020 when it released renderings of the ACE – a refreshingly different, retro coupe with wheelarches to make an AMG Black Series blush. Then they showed us the JAX – a rugged jacked-up version of the ACE, and then it really got our attention when it revealed this, the WOLF.
The thing is, much as we wanted to believe it was true, and were encouraged by Alpha taking actual reservations on its website (and promising cars will be on the road by 2023), all we'd ever seen were renderings. Now, for the first time there's something physical for us to touch, feel and walk around.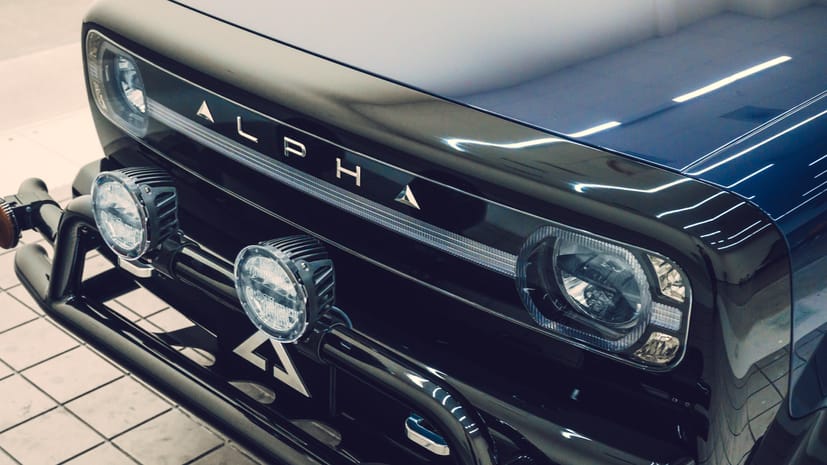 Time for some numbers. There will be WOLF and extended cab WOLF+ versions, with 0-60mph times of around 6 seconds, and a towing capacity of up to more than three tonnes. Both get the choice of single motor RWD, or dual motor 4WD, and get the option of an 85kWh battery for a range of 275 miles. It's also 4.7m long and a fraction under 2m wide, that's shorter and wider than a single-cab Toyota Hilux, and stretched four-door SuperWolf is also in the pipeline.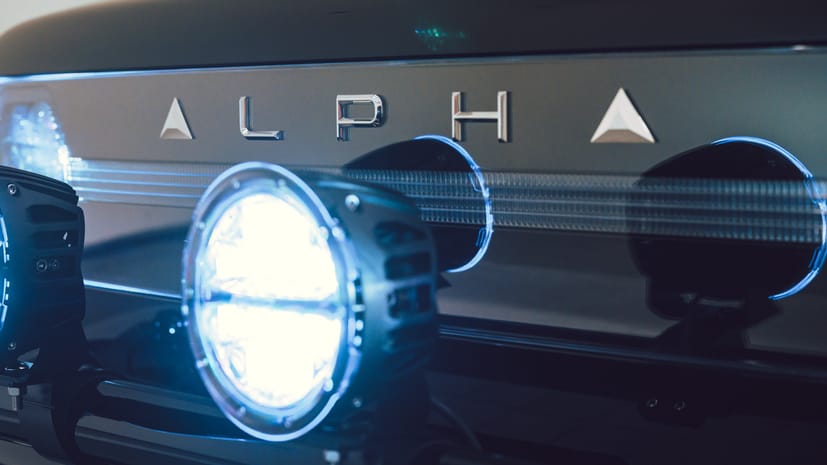 This is just a model, no interior yet, but what's interesting is Alpha has gone straight from a 3D computer design to this. No clay modelling, none of that faff, because making the absolute most of digital tools to bring down development time is one of the key pillars of the company. However the designers got there, the proportions are just fantastic albeit larger in the flesh than we thought it would be. In the supersized-US this still counts as a compact footprint.
The target starting price is $36k, which sounds mighty ambitious, although this model is kitted out in effectively top-spec – with knobbly BF Goodrich tyres (that look fantastic, but sit suspiciously close to the blown-out arches for any serious off-road work) and spotlights galore.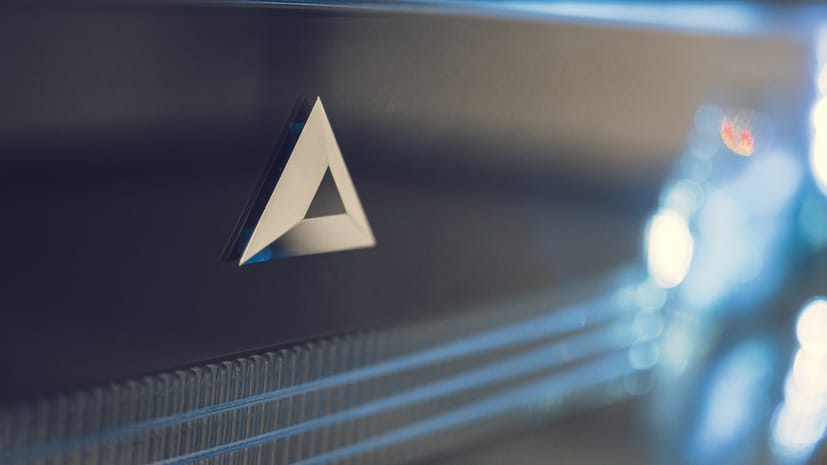 Technical details are scarce, but we do know it'll use a body-on-frame construction, just like a 'proper' truck, and while you just get a peep of the battery tray underneath the car, there's no word on where the batteries or motors will be sourced from. Alpha's plan is to outsource production initially – in the US – to cater for 15k to 25k units a year from 2023, and then to build its own factory beyond that if the idea really starts to fly.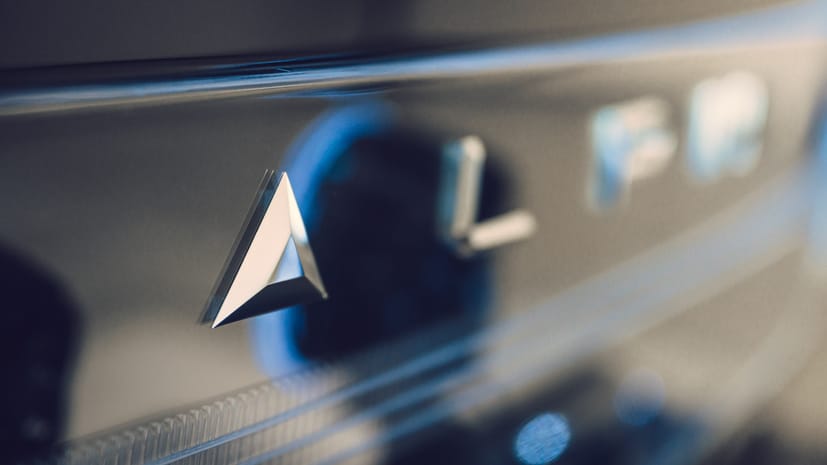 What do you reckon then? An orange sleeveless puffer jacket and one of these, or the equivalent Tesla/Rivian/Ford?